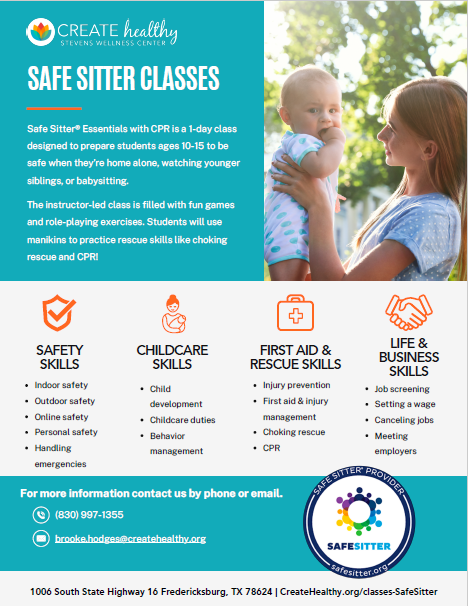 Safe Sitter® Essentials with CPR is a 1-day class designed to prepare students in grades 6-8 to be safe when they're home alone, watching younger siblings, or babysitting.
The instructor-led class is filled with fun games and role-playing exercises. Students use manikins to practice rescue skills like choking rescue and CPR. Fill out the form below to register!
Class Content
Safety Skills
Indoor Safety | Outdoor Safety | Online Safety | Personal Safety | Handling Emergencies
Childcare Skills
Child Development | Child Care Duties | Behavior Management
First Aid & Rescue Skills
Injury Prevention | First Aid & Injury Management | Choking Rescue | CPR
Life & Business Skills
Job Screening | Setting a Wage | Canceling Jobs | Meeting Employers
Click here to download the registration form.
Class Information
Stevens Wellness Center
1006 South State Highway 16
Fredericksburg, TX 78624
For more information and class dates contact: